Internet and Censorship
Hi..
Yesterday few members of www.broadbandforum.in (IBF) started posting replies that the popular file-sharing sites like Mediafire, Rapidshare , Megaupload etc are been blocked and a notice is put up saying
"This site has been blocked as per instructions from Department of Telecom"
Sushubh(Admin of IBF) too reported the same on Google Plus. As the story started to develop , more number of users on IBF , G+ , Twitter started to report the same and posting screenshot of the blocked page. I am on BSNL and fortunately BSNL didnt block those sites for me. I asked Sushubh to log the tracert and post it , and  Vishal Laul , a G+ user was also helpful enough also posted a log , and fortunately we found that all the blocked sites were routed through Flagtel.com .
As story began to break major websites , things got pretty heated up by today afternoon , after numerous reports pouring in. Many also found that the blocked sites were passing through flagtel.com . By evening , Airtel lifted the ban it seems , from seeing the replies posted on IBF. but still users on Reliance are facing censorship.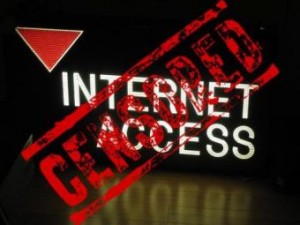 A recent article by Medianama shows more details on why the block occured. As i quote from the blog aritcle
File sharing websites have been blocked in India since yesterday on some ISPs because Reliance BIG Pictures got a "John Doe" order allowing them to service cease and desist notices on movie pirates pirating the film Singham, Mahesh Rangathantan, COO at Reliance Entertainment, told MediaNama. Singham is releasing in theatres tomorrow. What is unique about this order through, according to Big Pictures VP (Music and Anti Piracy) Sanjay Tandon, is that it also covers Internet Service Providers, and not just people selling pirated DVDs or cable operators. "A John Doe order is given against unidentified people, because the copyright owner doesn't know who is going to infringe. We anticipate that certain entities are going to infringe, and the Delhi High Court has granted us a John Doe order," Tandon said.
So what we have is a court order which gives the Movie company to pursue the infringers . Movie company in return have asked the ISP to block the sharing of the movie. ISP to escape from liability and future problems , have totally gone in full swing in blocking major file-sharing sites. There are few interesting points here.
First , the court order doesnt order the ISP to block sites . It only gives the direction to the movie company to go after the links ( not the site as a whole) on internet which they deem to be infringing.
[ad#250]
Second , the ISP on thier part cant filter contents and IMO dont have the power to muster that kind of task . ISP should have responded to the movie company saying " Get us a court order saying which one to block , which one not to block , If a file-sharing site or a site in general is hosting , contact its admin or send a DMCA take down" . Most of the file-sharing sites have specific page to report such infringing files and many sites remove those files ASAP.
Third , while the site was blocked , it simply said , the site blocked as per DOT , no further details were provided , either by DOT or ISP. So legitimate users will have to either contact the CC of ISP , which i am sure will have no clue what the user is talking about. and contacting govt body like DOT , TRAI IMO is like speaking to a deaf man.
Until more internet users are educated on various stuffs like net neutrality , FUP – fair usage policy , censorship , etc these so called blocking without order will continue to go on unhindered . Its high time someone forms something similar to EFF in India
-Urs Siva