Xperia X10 – Xperience unlimited !
Hi,
UPDATE : Uploaded Few photos , Still more to come..
Last Saturday i got my Sony Ericsson Xperia X10. Special thanks to my Chithi , who made it possible. I was waiting for this beauty for a long time. First when it was rumoured as "Rachael", I just couldn't take my eyes of it… the black body coupled with the Blue interface, did SE know my favourite colours ?. Anyway here i am with the Goddess of Mobile.
While i am still very new to Android OS , i am still having a quite a hard time to figure out what is. Since it's a great leap from a SE bred OS to Android. But needless to say, Android is really user friendly. You will get all the basics from the word start, but going beyond the basic needs time and patience, since its ability is far stretched, and with nearly thousands of apps (mostly free, thanks to Google`s Open source and Open market) , power of android is limitless. Where shall we start?
Like my previous other reviews on W995 and PS3, this one could be elaborate and the review is from my point of view…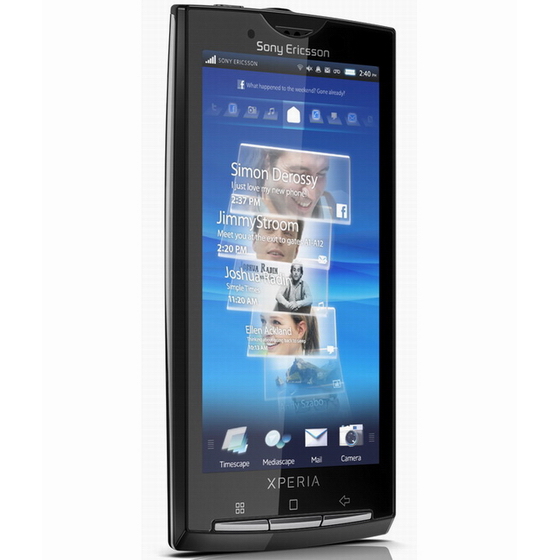 DESIGN:
The Monolith design of the X10 makes it quite a beauty and SE is very good at designing their Flagship models like K750, K800, K850, Satio , W995 , X1.  X10`s design will top the predecessors by a large scale. The blackness, i say blackness because the glossy screen and the grey side lines make it look much darker and give a richer look. Same cannot be said to the back side. Back is mostly of Matte finish, which was there in K800… Actually on the long run the back side is the one which takes most of the insult from the exterior world, but This time the matte finish is much more velvety than the rough material in K800. Take my old W995, it was silver at the beginning, but now it's white.. The silver coating faded and the true colour of the material is exposed. But matte on the other hand, the quality remains the same after years. I personally like the Matte finished back since its durable and reliable too… No need to worry where i place my phone 🙂 .
The Three small flat silver keys on the bottom, Volume button and a camera button on the side and main power button on the top, which also acts as lock button. This is all the physical input X10 has got. There are two LED`s in between the two keys which gives futuristic look in the night.  The bottom end is nicely cut at a slanting angle. Which I think makes it a unique design.
On the top, you have the micro usb port for data transfer and for charging.
USER INTERFACE AND OTHER SE APPS
Well anyone moving from other OS to android would have a slight difficulty in adopting themselves to the open source platform. It's great, but you should be patient and try to learn… It's not like other SE where interface is neatly lined up, X10 is whole lot different game. You have widgets, taskbar / notification bar on top, Pages, menu icons… Simply put it's a mini Computer.
But I think customization done by SE , like imparting blue theme onto Android 1.6 cleverly hides the screen limitation of the older OS. Also their two most important apps , Timescape and Mediascape are really nice apps.
[ad#250]
First the Timescape , this is one stop place for all the updates from your friends . This app grabs all the stuffs related to your friends from various different sources like Facebook , Myspace , Twitter,SMS sent from them ,call logs, and neatly puts them in a orderly fashion. Even though , its not perfect as for an example you cant reply to the tweets . you just see them. For replying and other stuff , it links to the browser, which is kind of defeats the whole purpose. But still its far better update aggregator which is put in a exotic looking title listed package than other apps in market.
Second  comes the Mediascape. This inbuilt app is a media aggregator , which retrieves information and other stuffs from internet. While you are playing a song , just hit a Infinite button and it tries to grab all the relevant media info`s regarding that particular song . Like YouTube videos , Playnow related media and general search results. Performance wise , there is no equalizer , which is a definite let down for me , as moving from a W series , I would expect at least a decent equalizer , leave alone the "Clear Bass "feature of w995. The app in general is slightly slower . but still does the job good. The clarity is very good than other music players in the MARKET.
Both apps are good , but could have been done better.
X10 is packed with Snap Dragon 1GHZ processor , only few android phones feature this processor. Along with 384 MB RAM , performance wise X10 is a beast. Browsing the phone in general is fast , thanks to the mighty Snap Dragon.And X10 Supports OpenGL2.0 which makes the phone to perform better at latest power hungry games.
TOUCH SCREEN
Touch is very new to me , for last 6 years I have been using keypad and with K850 there was partial touch buttons … but still no full blown touch. But after just few days of handling the phone , I would say , touch is pretty cool . For typing messages , if you are fast at your normal PC keyboard , then you should be fine. At first you may miss few words , or type in wrong buttons , but within few hours or few messages , you will get used to it . After that it's a totally whole different story with touch. Using touch over the 4" screen is a bliss , and with Fast UI , you will definitely love touch on x10.
X10 uses Capacitive screen , and doesn't support Multi touch feature . SE recently confirmed that Multi touch will not be possible with X10 ,as there is hardware limitation , but I seriously doubt it , since I think and many other feel that this is to evade the recent Multi touch lawsuit filed against prominent phone companies .
4" screen is most prominent highlight of X10. The screen looks absolutely gorgeous even at 65k colors.
If you are new to touchscreen , it may take time to settle with it. But Touch will come very handy in times when you just want to type / do stuffs just by a flick of the fingers.
BATTERY
One thing many have to understand is these high end phones comes packed with serious processing power and coupled with loads of features , and unlike normal phones , battery backup is always slightly less in these phones compared to normal phones .
For me , it comes for a day . First few days the battery was slightly less , but as I am entering into 6th day , the battery backup seems to improve , this is always the case with Li-Po Batteries.
One big drawback which I felt was , using the data cable both for charging and as data transfer. SE has given a usb enabled charger where you connect the Micro USB data cable for charging. This is ok but when you want to transfer files , you need to remove the cable and use it along with your PC , this can get tiresome, anyway I have ordered a separate Micro Usb cable , for data purpose. Android system has a nice tool which gives you which apps / system periphery is utilising how much battery.. Mostly because of the 4" screen , most of the battery is drained by the screen. This is expected.
CAMERA:
X10 is the only Android phone which has 8.1 MP. With proposed 720p recording coming soon to X10, this is one hell of a beast. Haven't really taken much photos with X10 yet , but will update the flickr as I take them. The interface is neat and handy .
[Will update this part later .. if possible i will do a comparison with my old 8 MP W995]
ANDROID OS
Android, Google Bred OS, open source and currently exapanding in exponential. Supported by Hardcore developers and Open source enthusiast , Android is here to stay. Unlike other OS like iOS and WinMO , Google does pretty good job at updating thier OS at constant speed. X10 base firmware is now at 1.6 , far below the current Froyo(2.2) , this is because , SE and other mobile companies , take the Source code and modify to their willing to give it a stand-out look and feature for thier mobiles, thats where Timescape and Mediascape comes in. This comes at cost . Since Google is releasing updates are faster rate , Companies need to alter the source code so that their modification stays intact.So this leaves customers to trail behind the actual latest Android. But Google has recently said that with Gingerbread(3.0) Android , there will be unification and they themselves going to implement complete UI(User Interface ) overhaul .
But good news for X10 users is , currently X10 is rooted , meaning that they can install the 2.1 source code. , but still Bootloader is still not hacked , when that occurs , we would be able to install Custom ROMS like Cynogen MOD onto X10 , that would simply make X10 really the phone it was meant to be…
Final Thoughts
Sony Ericsson Xperia X10 is a device which is capable to outdo HTC desire and Nexus by large scale , its only downside is the Firmware. SE has to update their base software to a decent 2.1 which would enable 16Million colors , which would greatly enhance the already awesome display. Moreover , a better base kernel would make Phone much more faster and reduce battery consumption. There is more to 2.1 Version of Android , But since SE has said there will be update in Q4 this year , we have to wait. This is a great gadget and one of the best phones I have had and i can assure you that it will grow on you as time passes by….
Any doubts or need clarification leave them in the comment section below.
-Urs Siva